Accutane
Before and After
What were your results after using Accutane?
Is your complexion much clearer than it was before? Do you suffer any side effects?
Share your results with us here on the Accutane Blog. 

There is no doubt that Accutane has helped thousands of people (over 85% of people were satisfied with their results). It has been especially helpful for those with excess surface oil. 

Before and After Photos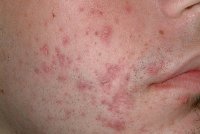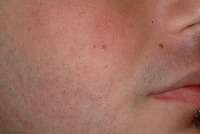 However, a few did complain of excess dryness after treatment. But, there are a few things you can do if you suffer from dry facial skin.
While these tips are for those who naturally have a dry complexion, but it might help you through the rough spots while using this medication.

All-in-all, the good news is that many people do notice much less breakouts and whiteheads. Just keep in mind, these results might take up to 5 weeks before they're noticeable. 
Accutane Dosage
The general dose varies from 20 mg/day to 60 mg/day, but you should discuss this with your doctor.
Especially, if you're experiencing super dryness or irritation. Starting out with smaller doses might help prevent those nasty side-effects/


The bad new is once the treatment stops, some notice the acne and the excess oil comes back…..sometimes even worse than before. This is a small chance, however. 


Plus, other side effects can be pretty serious, ranging from blurred vision and joint pain to irritable bowel syndrome and even Accutane related birth defects.
Even low dose Accutane 30-40 mg may cause side effects. 

For Best Results -
Be Gentle
Use a gentle pH balanced soap - it doesn't have to be specially designed for acne - just make sure it cleans well without over drying or causing more irritation. Cetaphil, or Dove cleansers are good. 


If you haven't had good success with those cleansers, then consider trying one specifically designed for acne prone complexion.


Keep in mind - not everyone gets result this good, in fact some people claim that their acne actually got worse before getting better.
How Long Do Results Take?
Many dermatologists say it might take up to 3 or 4 months before you see any improvements. And some people might need to increase their dosage after a few weeks. 


Also, while it's not 100% proven, but tweaking your diet while your on medication might help - at worst case, it's still good for your general health........so it's worth a try.
For example, for few weeks try to give up excess sugar and/or pure junk food and processed food. 


Try to increase your intake of veggies, especially dark green ones. Reduce carbs and increase lean proteins.
And, try to eat a little fish or take fish oil supplements which can help with improving the complexion, especially if it's very dry.
Read about best vitamins for a healthy complexioin. 


If you drink soda or alcohol (which is a no-no with this medication) remember that alcohol drying to the dermis........
And, it can cause some serious damage to the liver when taking certain medications at the same time. 
It's probably not a bad idea to take supplements to support the liver while your on this medication too.
A good one to try is Silymarin, which can help support your liver. 


I know changing a diet can be tough, but try to make small adjustments for a few weeks and see if you don't look better.
Sometimes just a tiny change in your diet could mean a world of difference on how you look before and after taking the medication. 


If you notice any side effects after a few weeks of treatment, it's best to notify your doctor as soon as possible. Never increase your dosage without checking with your doctor first. 


Also, it's important to use gentle sunscreen – especially formulated for acne. Accutane can cause sun sensitivity. 
Photo Courtesy of http://www.realself.com 

---
Accutane Blog - Share Your Experience
Accutane Blog - Share Your experience with the drug Accutane. Did you have any success? Did you suffer any side effects? How long have you been using Accutane?

Tell Us About It Here:

Accutane Before and After