Common Rashes
Common rashes - everyone (from babies to adults) have experienced some type of rash in their life time. Finding the diagnosis and treatment can sometimes be difficult - even for physicians.
Next to treatment for acne, a common rash diagnosis is a very common internet search. There are so many different types of dermatitis conditions and the term rash or itching rash is very broad and the causes can vary from simple allergic reactions to more serious conditions.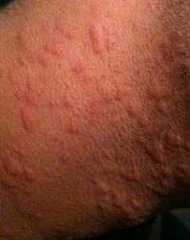 Take for example the picture of the neck rash to the left. It's a common reaction from shaving that many men and women tend to get.
This usually occurs in those hypersensitive to particular ingredients in their shaving cream or if the razor blade is too old or dull.

If this happens to you often - make sure to keep your razor blade clean and sharp and use a shaving cream/lotion that is hypoallergenic.
Also, it's not a bad a idea to exfoliate prior to shaving to ensure that hair follicles are unclogged. Removing dead cells can help provide a smoother shave with less chance of bump and breakouts.

Click here to get lots of homemade tips and remedies you can make at home.
Types of Common Rash
Dermatitis - is very common and can be caused by everyday, environmental exposure like sun poisoning, bacteria, sweat, or even stress.....include:


groin rash
viral rash
fungus rash
If you are currently suffering from any type of dermatitis - don't rely just on pictures for a diagnosis, keep in mind that many may behave or look similar, but could be an indication of something more serious.


If it lasted a long time or appeared as a direct result from a change in medication or diet, you shouldn't assume it's a common condition. Get a professional diagnosis before self treating.


If this is a common occurrence and you're just prone to hive type breakouts and looking for natural homeopathic solutions, then visit this site to learn more about Oxy Hives Spray.
Atopic Dermatitis

Another common condition called atopic dermatitis is a type of eczema rash. The symptoms include scaly, dry patches on the legs, arms, and chest. A perfect example of this would be poison ivy rash.


Two other common conditions that are scaly in nature are psoriasis and pityriasis rosea. Psoriasis is sometimes genetically linked and can appear as a leg rash, elbow rash and on the knees.


Pityriasis Rosea usually affects teens and young adults, producing scaly patches on the chest and back and generally disappearing in about a month.
Fungal Rash

Fungal rashes don't appear as often as eczema. They are scaly in nature, but not all scaly rashes are a fungus. Yeast infections can be mistaken for a fungal infection, for example.


Anyone can get a fungal rash, and they're not overly contagious. Initially try treating this rash with an anti-fungal cream or spray. If the rash resists this, or gets worse, see a physician.
Rash Treatment Suggestions

If you're prone to common rashes, like: prickly heat, groin, or fungal, and haven't found a solution - consider a natural homeopathic spray that you spray under the tongue once a day.

Here is What Other Customers have to say:

"... I have tried every treatment and all kinds of creams from the drug store. But my rashes and hives kept coming back. It was so frustrating. Now, after using … This spray for 3 months my itchy rashes are GONE! Thanks so much."
I didn't think this would work because I never found real relief before. It took a few months later but now, I'm all clear. I can't remember the last time in my life I have been clear for so long!
I always keep a couple of bottles on hand in my medicine cabinet just in case my daughter starts getting rashes. I think it runs in the family, but now I'm ready! AND it's all natural and not very expensive! Try it; you won't be disappointed!" Tom, ME, USA
---
Additional Reading

Causes of Eczema - It is related to food, environment, or emotion? 

BioSil - A collagen enhancing supplement.

Causes Wrinkles - It's more than just aging or excess sun exposure.


Home

›
Healthy Skin Tips
› Common Rashes