Help for Dry Skin - Great Homemade Ideas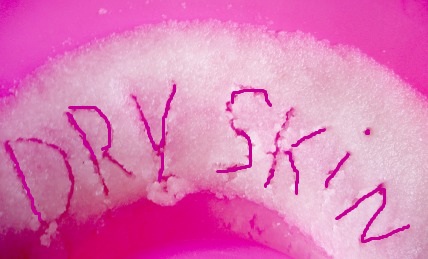 Help for dry skin is on the way!
Try some of these smooth suggestions to eliminate the causes and help heal quickly.
First, let's start off with one of my favorite dry skin remedies.........
This inexpensive home remedy can help hydrate and polish.
Use it on your face and/or all over your body....especially on those rough elbows and heals.
Olive Oil & Sugar Scrub - This scrub is my favorite and can really help hydrate.

Just mix a couple tablespoons of sugar with a small amount of olive oil or coconut oil....add more or less to your liking or until it turns into a paste like consistency.

Then very lightly massage this mixture all over your face and body (don't forget your elbows and knees). This scrub can help remove dead flaky cells while moisturizing. I like to make a big batch of this and leave it in the shower.
Homemade Masks and Facials
If you suffer from dry complexion, then a monthly or bi-monthly moisturizing facial can really help improve the look of your complexion.
See dry facial skin for more information.

Lactic Acid and Other Hydrators
Fruit acids - like lactic acid - not only hydrates - but leaves your face with a "dewy feel.
See At Home Peels to learn about lactic acid and how it can help.
And for the body shea butter is creamy and soothing.
---
Still need more help? Take a look at your beauty regime and ask yourself the following questions...........


How often do you wash?
What type of soap do you use?
Do you know what's in your soap?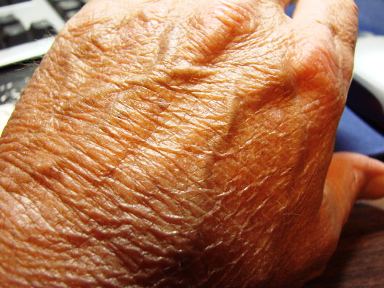 Many soaps and cleansers usually won't list the pH, but helps to know - especially if you're having problems. Click on the following link...... best soap for your complexion.
Causes?
Simply put - a healthy dermis has a natural layer of oils that keep moisture deep within - giving it that soft supple look.


When the layer is stripped away – whether due to environment, medical conditions, or life style (wrong products or over washing), you wind-up with dehydrated, patchy, flaky, or wrinkly looking complexion.
Most Common Causes?
Over washing!
According to leading dermatologist Dr. Barney Kenet, "Most adults over thirty commit one big mistake when it comes to washing: They do too much of it."


So Bottom Line?
You don't need to wash with a cleanser so often. Wash at night with a cleanser to remove dirt and just rinse with water in the morning.
AND - use soothing natural scrubs and natural fruit acids a few times a week. They help keep pores clear and unclogged without over-drying.
Other Uncommon Causes Include:
Thyroid issues. An under active thyroid does not produce enough hormones and cause a reduction in oil production.

Diseases like psoriasis or or causes of eczema. This type of dry skin condition is usually marked by a fast buildup of dry, rough skin cells that turn into thick scales.
Over use of Acne medication or harsh acne products. Consider using products specifically formulated acne treatments for sensitive skin.
Clothing. Love your wool sweaters? They can irritate and cause friction.

Poor diet and vitamin deficiencies like vitamins A, and omega 3 fish oils. See vitamins for dry skin.
Hormone imbalance (menopause). Low levels of estrogen and progesterone – like during menopause – can cause a significant reduction in oil levels.
---
Additional Reading and Help

---
Leave Help for Dry Skin and go Home for lots of quick beauty tips.