Hate Those Facial Jowls?
Are your facial jowls starting to resemble that of a hound dog? Well, sooner or later it happens to all of us..................
Most people start to notice droopy sagging jowls in their late 40's and/or early 50's. 

Slowly, over time that tight, beautiful jaw line begins to disappear and the bottom half of our face takes on a heavier, fuller appearance. 
I know it's possible to improve the look of the jowls and neck. I did it and I know you can too! See my before and after pictures below............................

Even if you've neglected that area, it's not too late!
It may take a little longer, but many people (including myself) have seen results with consistent use of face and neck exercises.
The right facial workouts also massage the skin along the way - helping to improve tone and texture.


While high potency serums - like pure Vitamin C Ascorbic Acid can help improve your complexion, it's the underlying the muscle that needs to be toned and firmed.


We know the beneficial effects of exercises for the body, well a similar principle works for the face too. And the best part? The look is more natural - compared to plastic surgery.

How Do Facial Jowl
Exercises Work?
I think is one of the easiest and best facial exercises for jowls and under the chin..........


Place 3 fingertips right at the bottom of your jawline and tilt your head up slightly.
Then place your bottom lip over the top lip so your jaw is protruding slightly. Turning your head towards your finger tips, tighten your cheek muscles (like your smiling really hard on one side of your face) and squeeze the eye shut.
Gently but firmly slide the fingertips up over the jawline towards the outside corner of the mouth, ending there. Repeat 5 times on each side.
Exercises that target certain areas - like facial jowls - can help strengthen and improve muscle tone to provide a nice lift.
However, it's also important to workout the other areas of the face - so that all 28 muscles can work together to create a nice youthful, lifted appearance.


Also, these workouts provide a nice massage which can help stimulate new collagen and elastin fibers and causes more blood flow to that area - bringing more oxygen and nutrients - which feeds your completion the nutrients it needs to be healthy.


NOTE: For more detail information on how face exercises work for the sagging jowls and more....visit Facial Exercises.
What Other Benefits Can I
Expect with Face Exercises?
People who do their exercises religiously, report that they have what's called "a youthful jump". Meaning, every three months or so, they notice a significant change in their appearance.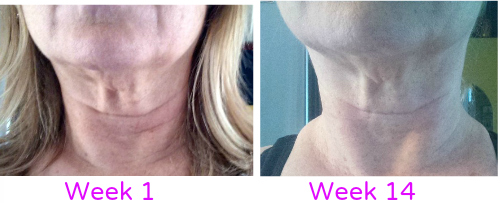 Their face seems to look just a little younger than before they started.
It is a good idea to take a picture before you start your facial workouts, so you can compare your changes along the way. 


And, the best part is studies show that these youthful jumps continue for years after you've started your facial exercises.
So you are literally getting younger and tighter skin each year you continue doing facial exercises! 
See my before and after neck pictures. These results were achieved after a few months of facial exercising and copper peptide cream.


See other Before and after pictures.
Additional Reading
How to Get Clear Skin - Get a clearer smoother even toned complexion. Simple and inexpensive.


Eyeliss Review - New technology to improve the skin around the eye area. See pictures.


Hide Wrinkles and Large Pores - This skin smoother offers temporary results. Use it under makeup for a smoother look.

Home

›
Facial Exercises
› Facial Jowls