What Types of Skin Rashes Do You Have?

What types of skin rashes do you suffer from? 
Looking for Calming, Soothing, Anti-Aging Skin Repair?  Click here
Gosh, I've looked at hundreds of rash pictures I'm still confused. They all seem to look the same!
Almost everyone has had a reaction or a form of dermatitis at one time or another.
So to help you figure out what kind of rash you have, we've posted lots of photos of the most common forms of skin eczema.
In addition to rash pictures we've also added some common symptoms to help you along and hopefully find a good treatment option.

Contact dermatitis (A.K.A. rash) can be caused by so many factors.
From simple reactions to laundry detergent to side-effects from medications. Even allergic reactions to certain foods...
NOTE: Do you have a dry, scaly, itchy type of rashes that occurs mostly around the lower legs and ankles?


Some research suggests there could be a connection between rheumatoid arthritis medications - such as Enbrelor Humira - and these types of side-effects.


So if you're taking any RA medication (or any medication) and suddenly notice unusual rashes or itchy spots, check with your doctor.


Also, try to drink lots of water and some of the following recommendations and home remedies to relieve itchy dryness.


If you're itching turns to welts up when scratched read more about eczema symptoms to see if there is a possible connection.


Some people may confuse a rashes or eczema with acne -- click here to learn more help for acne. Especially, if you suffer from an oily complexion, or blackheads and pimples.

Different Types of Rashes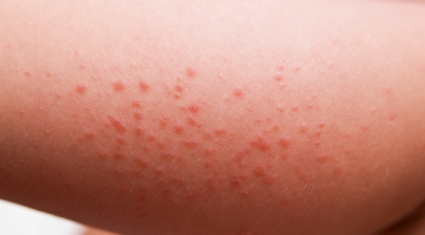 While any type of change should be diagnosed by your doctor. Many people often try home remedies like homemade lotions or over-the-counter anti-itch creams.


Fungal - Fungal rash is one of the most common types of rashes and can appear anywhere on the body, but especially on the feet (athlete's food), and groin and jock area.


A fungal rash usually develops due to overgrowth of certain germs. Most common rashes are caused by fungus or yeast.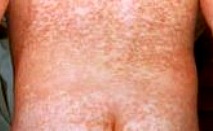 Symptoms of fungal rashes include deep red patches that spread easily to other parts of the body.


Some are itchy and some are scaly – these types of rashes can be can sting and be very uncomfortable.


Other Fungal skin rash include ringworms which are small red circles or sores on the skin. This one is very contagious and will spread to other parts of the body.


Bacteria – Bacterial rashes are usually more serious in nature. Examples of these types of rash include syphilis rash, strep rash, cellulitis infection, and Lyme disease.


Viral - is also pretty common. Viral rashes include: measles, chickenpox, and shingles rash. Also, a more serious viral rash is the HIV rash or AIDs rash which develops in those who have contracted the HIV virus.

Hives - Other Types of
Skin Rashes

Hives (urticaria) - these types of breakouts are usually marked by circular wheels of red, itchy rashes. While hives can affect any part of the body, they generally show up on the throat, arms, legs, and stomach.


Hives can be caused by many things, the most common reason people develop hives is food allergy, infection, or insect stings.


That's why it's important to keep an anti-itch cream on hand to reduce symptoms of hives including:
Raised circular bumps that look like mosquito bites
Red circular wheels that are white in the center
Wheels appear in clusters or patches

However, if your symptoms include white thick swollen patches, then it could be psoriasis. Click here to see Psoriasis Photos.

Need more info? Click here to see more pictures of skin rashes
Additional Reading
Dry Skin - Anti Aging Skin Creams

---

Home

›
Healthy Skin Tips
› Types of Skin Rashes